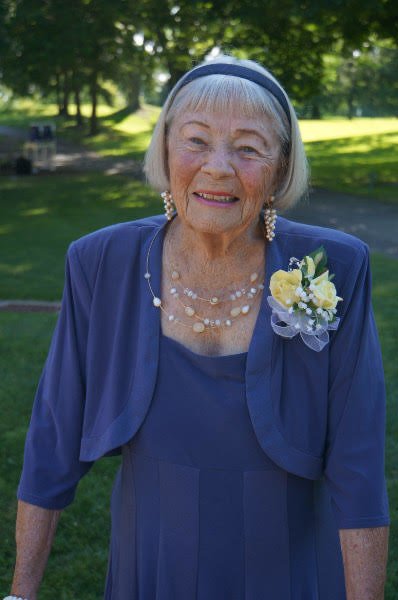 Obituary of Barbara B. Pope
Barbara Myrtle Buxton Pope, born to Lorin William Buxton and Myrtle Emma Williams in Rocky River, Ohio, on June 7, 1922, died on December 19, 2019, in Cincinnati, Ohio. She was predeceased by her brother William Buxton and her husband of fifty-eight years, Charles Foster Pope. She is survived by her children Penelope Pope, Deborah Pope, Thomas Pope, and Priscilla Pope-Levison, nine grandchildren, Jesse, Daniel and Gabriel Gilner; Nicholas and Matthew Shangler; Christopher and Jeffrey Pope; and Chloe and Jeremy Pope-Levison, and four great grandchildren, Davin, Francesca, Gianna, and Henry. Barbara was a woman of indomitable spirit, both at home and in her community. She was a mentor to dozens of Girl Scouts over the years, even taking them on a European tour; for her service she received the Girl Scouts lifetime membership pin. The consummate volunteer, Barbara was active in other organizations, such as the Cincinnati Dental Auxiliary, Junior League, the Indian Hill Historical Society, the Welcomers, the Travel Club of Cincinnati, and the Indian Hill Civic Club. She and Charlie together attended hundreds of symphony concerts over the years; they were subscribers to the symphony for over fifty years. She and Charlie were also active members of Armstrong Chapel United Methodist Church, through which they participated in an untold number of mission trips in Cincinnati, Appalachia, Haiti, and Jamaica. Nevertheless, while she was a committed and capable homemaker and devoted citizen of Indian Hill, the grass never grew under Barbara's feet. She was passionate about travel, and she made sure her husband Charlie roamed the world with her. Having spent her formative years in Mt. Vernon, Ohio, Barbara attended secretarial school then left the roost to attend the University of Minnesota. She moved to Cincinnati, where she attracted the attention of a certain young dentist, Charlie Pope, while she worked at Pogue's Department Store. Charlie and Barbara were married on February 15, 1946. Although they had broken ground on a new home in Indian Hill, the couple spent two years at Scofield Barracks, on the island of Honolulu, where Charlie was a dentist in the Medical Corps during the Korean Conflict. A relentless volunteer, a wonderful cook, an avid traveler, a devoted churchwoman, Barbara Pope was fiercely loyal—to her family, her church, and her community. Whether this meant attending innumerable recitals, baseball games, church picnics, or civic events, Barbara Pope was there, ever and always, enthusiastically. A service of celebration will be held at 10:30 AM at Armstrong Chapel United Methodist Church, 5125 Drake Road, Cincinnati, Ohio, 45243. A burial service will follow immediately afterwards. Donations in Barbara's honor may be sent to Armstrong Chapel, designated for mission outreach, or to the Girl Scouts of America.
Celebration of Life Service
10:30 am - 11:30 am
Monday, December 23, 2019
Armstrong Chapel UMC
5125 Drake Rd.
Cincinnati, Ohio, United States
Interment
11:30 am - 11:45 am
Monday, December 23, 2019
Armstrong Chapel Cemetery
Corners of Drake and Indian Hill
Roads Indian Hill, Ohio, United States
THOMAS-JUSTIN MEMORIAL FUNERAL HOMES, INC
Serving Cincinnati & Surrounding Areas Since 1954.