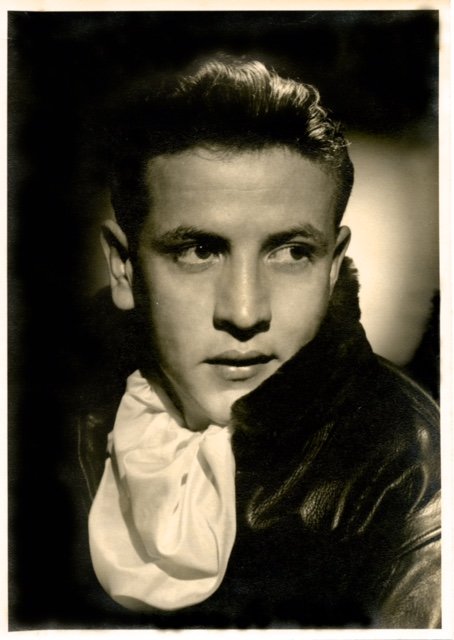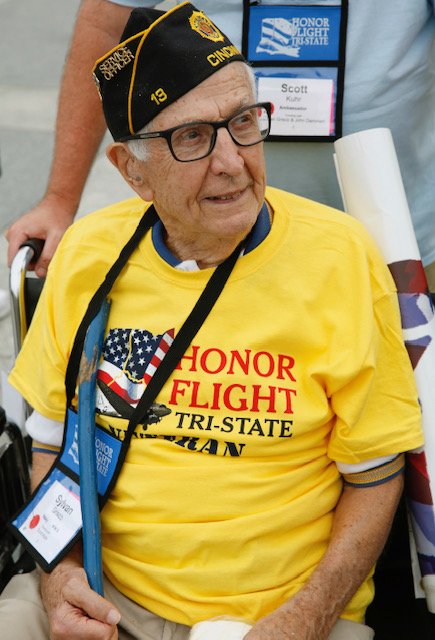 Obituary of Sylvan Grisco
If anyone was going to live forever, it would be Sylvan. But, he fooled us again and after 97 years, he's gone to that big fishing hole in the sky.
A legend in his own mind and now a legend in ours, we bid farewell to this larger than life character.
Sylvan Grisco was born on Valentine's day in 1922 in Williamson, West Virginia and the world hasn't been the same since. An only child, Sylvan learned the trade of shoemaking and assisted his Italian-born father in running the shoe shop and repairing the coalminer's boots. His mother died when he was just 18 and he joined the US Navy shortly after in 1941. Sylvan's stories of fishing off the aircraft carrier, catching hammerhead sharks from the bumper of a Buick, or flying to Belize on a mattress during a hurricane, makes you wonder whether there was an actual war going on.
Sylvan met Rae Louise Brubaker the way all great couples meet; in a bar in Key West, Florida. Their courtship lasted for 55 years until her untimely passing in 2000. They married in 1945 in the South side of Chicago. After his honorable discharge from the Navy in 1946, moved to West Virginia where the first of four daughters was born. On St. Patrick's Day of 1950, the family, toting their now 3 year-old, moved to Cincinnati where they would settle down and call Madisonville home for close to 70 years.
Opening the first of many "Grisco Shoe Hospitals," Sylvan ran a shoe repair, shine, and sales shop in Madisonville, and several downtown locations at various times in his career. In 1973, he hired two women shoeshiners to help out Pal, his main shoeshiner. And while this would have been perceived as unusual or even disdainful for the era, it was just a one occasion out of hundreds that Sylvan couldn't care less about what the general public thought and would recognize someone on their merit and ability, not their gender or race.
Sylvan and Rae were dedicated community activists and citizens. Sylvan was a Boy Scout leader for many years earning a Silver Beaver award of which he was extremely proud. Sitting on various boards and holding positions on the Madisonville Community Council, Sylvan put his money where his mouth was, so to speak, when it came to politics. Running for Congress in 1974, his official campaign slogan was: "I've been saving soles all these years. Now maybe I can go to Congress and shake up a few heels." Never one to back down from confrontation or something he believed in, he would continue to stay active in the community even after congressional defeat. He tried his hand again at an elected seat when he became the oldest candidate at 83 to run for Mayor of Cincinnati in 2005.
If you didn't find Sylvan saving soles, you'd be sure to find him fishing for them. When he wasn't raising hell at City Hall, fixing shoes, or keeping four daughters in line, he'd be fishing in a creek, a lake, a pond or even a goldfish bowl. Heck, if there was a chance that a fish could be in a rainstorm puddle, he'd get the fishing pole out. Sylvan loved to spend summer days floating and casting in his favorite fishing hole, Dale Hollow Lake. Trolling for "hogmolleys," I'm sure there were plenty he caught, but somehow "got away." But, what's better than a good fish story?
How to sum up the life of such a colorful character in just one page is nearly impossible to do. But, Sylvan left behind a presence and a legacy that will live on through vivid stories and lore for many years to come. He'll still be around stirring the pot after he's long gone from this earthly world and, knowing Sylvan, that's exactly what he'd want.
The man was a father, a husband, a grandfather (great and great-great!), a Boy Scout leader, an (almost) politician, a WWII Navy veteran, a shoe cobbler, a fisherman, the unofficial mayor of Madisonville, a teller of tales, and spinner of stories.

There's never been anyone like him and doubtful there ever will be again.
In lieu of flowers, the family asks for donations made in honor of Sylvan and Rae Grisco to the Madisonville Branch of the Cincinnati Public Library. Donations can be sent:
Attn: Staci Dennison, The Library Foundation, 800 Vine Street, Cincinnati, OH 45202
Visitation
9:00 am - 10:00 am
Tuesday, November 26, 2019
Thomas-Justin Memorial
7500 Montgomery Rd.
Cincinnati, Ohio, United States
Funeral Service
10:00 am
Tuesday, November 26, 2019
Thomas-Justin Memorial
7500 Montgomery Rd.
Cincinnati, Ohio, United States
Interment
11:15 am
Tuesday, November 26, 2019
Graceland Memorial Park
5989 Deerfield Rd
Milford, Ohio, United States
Share Your Memory of
Sylvan
Kenwood
Thomas-Justin Memorial
Kenwood Chapel
7500 Montgomery Rd.
Cincinnati, Ohio
45236
Phone: (513) 791-5353
Fax: (513) 791-5004
Email: CLICK HERE
Madisonville
Thomas-Justin Funeral Home
Madisonville Chapel
4418 Whetsel Ave.
Cincinnati, Ohio
45227

Phone: (513) 271-0732
Fax: (513) 791-5004
Email: CLICK HERE