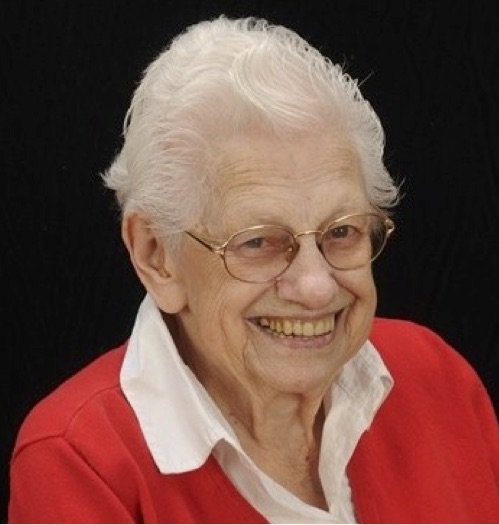 Obituary of Martha A. Perkins
Martha Perkins, (nee Hopper), died at SEM Haven in Milford on Tuesday, August 7, 2018. She was 96 years old. She is preceded in death by her husband Maurice, her mother Anna Hopper (nee Huber), her brother Louis Hopper and her father John Hopper.
She is the beloved mother of Philip (Susan), Paul (Jeannine), and Alison (Sonya Harry). She is the beloved grandmother of Holly Lawson (Brian), Nick, Luke (Jen), Samuel (Jen), Michael, Benjamin, Micah & Nate Harry. She is great-grandmother to Jake & Rusty Lawson.

Martha was born in the East End of Cincinnati on Dumont St. She and her family moved around some in her younger years until they ended up on a farm in Milford, OH. She graduated from Milford High School in 1941. It pleased her to have returned to Milford for her last years. She felt she had come full circle. Martha was proud of the work she did as a section leader, after high school at Blue Cross/Blue Shield. Martha left that job to be a wife and Mother. She loved the many dogs and horses in her life over the years….most notably Buster, Rexie, Trigger, Paddy, Benji, Rudy, and Lucy. Her most favorite activity was always spending time with her family. Her family was everything to Martha! She loved us all so very much.

Martha very much enjoyed camping with the National Campers and Hiker's Association (NCHA) and The United Methodist Heritage Campers (UMHC). She was very involved in Madisonville United Methodist church: The Wedding Band Class, serving as Chair of Church Council, singing in the choir, hosting a weekly prayer group in her home, and being generally a good-hearted Troublemaker. For many years, she wrote a weekly article called "Chit Chat" in the neighborhood newspaper, The Messenger. She loved reading (especially John Grisham books), knitting, quilting, and crocheting…..and she was always ready to have fun!

She was active in her community, serving as a Precinct Captain. As the spouse of a Shriner, and herself an Eastern Star, she volunteered for many years at the front desk at Shriner's Burns Hospital in Cincinnati. She and Maurice were also active in the National Association of Retired and Veteran Railway Employees (NARVRE). She enjoyed spending time with her many friends throughout her life.
She was a generous and loving person to her family, friends, church, and community. Martha was a force of Nature to be sure! Her smile would light up any room. She sought to live out a main tenet of Jesus' teaching – love for each other, hospitality and generosity. She provided food and safe space to many people throughout her life. Martha, you are a beloved child of God and a good and faithful servant. We are grateful to have known you.

We will miss you, Martha, Mom, Grandma, Great-grandma, Aunt. Know that you are loved now and forever.

In Lieu of flowers you may make a donation in her name to a charity of your choice or to SEM Haven (Milford, OH) or to the American Heart Association.
Visitation
9:00 am - 10:00 am
Friday, August 10, 2018
Thomas-Justin Funeral Home
4418 Whetsel Ave.
Cincinnati, Ohio, United States
Service
10:00 am - 11:00 am
Friday, August 10, 2018
Thomas-Justin Funeral Home
4418 Whetsel Ave.
Cincinnati, Ohio, United States
Interment
11:30 am - 11:45 am
Friday, August 10, 2018
Spring Grove Cemetery
4521 Spring Grove Ave
Cincinnati, Ohio, United States
Share Your Memory of
Martha
Kenwood
Thomas-Justin Memorial
Kenwood Chapel
7500 Montgomery Rd.
Cincinnati, Ohio
45236
Phone: (513) 791-5353
Fax: (513) 791-5004
Email: CLICK HERE
Madisonville
Thomas-Justin Funeral Home
Madisonville Chapel
4418 Whetsel Ave.
Cincinnati, Ohio
45227

Phone: (513) 271-0732
Fax: (513) 791-5004
Email: CLICK HERE