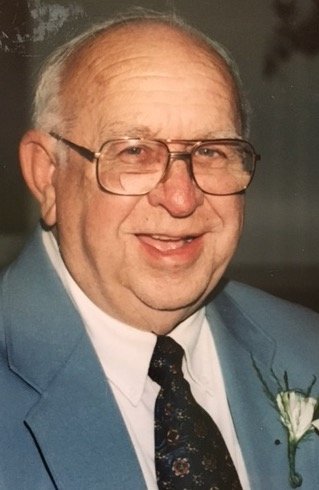 In Memory of
Curtis Lee Clever
1928 - 2017
Obituary of Curtis Clever
Curtis Lee Clever departed this life July 5, 2017. Curt was born June 28, 1928 in Milwaukee, WI to the late Francis Elbert Clever and Amanda Selma Kellerman. He was predeceased by his half-brother Walter Ferch, half-sister June Milanowski, and his gem of a wife Marjorie Dora Ingraham Clever.
He is survived by his children David Clever of Big Pine Key, FL; Vicki (David) Gill of Little Rock, AR; Dale (Madeline) Clever of Madeira, OH; and Dawn (Terry) McNees of Union Township, OH. He was a loving grandfather to eleven grandchildren and thirteen great grandchildren.
Curt was born to a mother who had run away to join the circus. She said she was a lion tamer's assistant and had a scar to prove it. His father was a farmer's son who left home for the big city lights…never to milk a cow again.
Curt's childhood family depended on the "county" for food, clothing, and housing during the depression. Although he was poor, his childhood stories of Hammer Bill, TaTa Ribi, and neighborhood antics reflected a sense of humor and resiliency that served him throughout his life.
Curt was an excellent student and graduated from South Division High School in Milwaukee. His high school athletic career took off after he grew 8 inches in one summer. He played on city champ baseball teams and was part of a four-mile relay team that held a city record for twenty-five years.
He met his wife Marjorie, in high school and celebrated 47 years of marriage. Curt was a loving care taker of Marge during her many years of illness.
Curt's love for community and sport was reflected in his life in Madeira. He helped pass numerous school bond issues, was one of the founding members of Madeira's athletic boosters, and the Madeira Recreation Association. He was instrumental in beginning Pee-Wee football and basketball programs in Madeira. Many years he served as a chain gang member at Madeira home football games and as a time keeper at track meets. He was a die-hard fan of Mustang and Amazon teams. Later in life, he was honored as Grand Marshall of the homecoming parade.
He was a Deacon at the Madeira -Silverwood Presbyterian Church and guided many a nervous bride down the aisle ON TIME. He sang in the church choir and participated in church musicals.
He volunteered at North Bethesda Hospital for twenty-three years. He would sit in the front lobby greeting people and giving information. He boasted that he "ran the hospital."
What most will remember is his sense of humor, his politically incorrect jokes (he was funny), and his rousing choruses. Every grandchild could sing Take Me Out to the Ballgame by age 3. His stories, memories and jokes will be shared between family and friends forever.
Memorials may be made to:
Ferncliff Camp and Conference Center
1720 Ferncliff Road
Little Rock, AR (72223)
OR
Madeira-Silverwood Presbyterian Church
8000 Miami Ave (45243)
OR
Alzheimer's Association of Cincinnati
644 Lin St., Suite 1023 (45203)
Kenwood
Thomas-Justin Memorial
Kenwood Chapel
7500 Montgomery Rd.
Cincinnati, Ohio
45236
Phone: (513) 791-5353
Fax: (513) 791-5004
Email: CLICK HERE
Madisonville
Thomas-Justin Funeral Home
Madisonville Chapel
4418 Whetsel Ave.
Cincinnati, Ohio
45227

Phone: (513) 271-0732
Fax: (513) 791-5004
Email: CLICK HERE