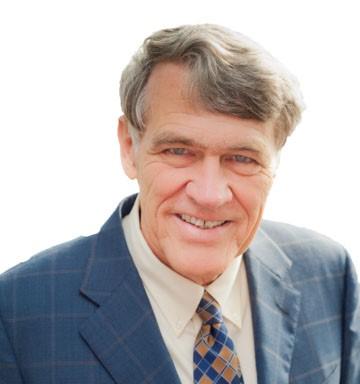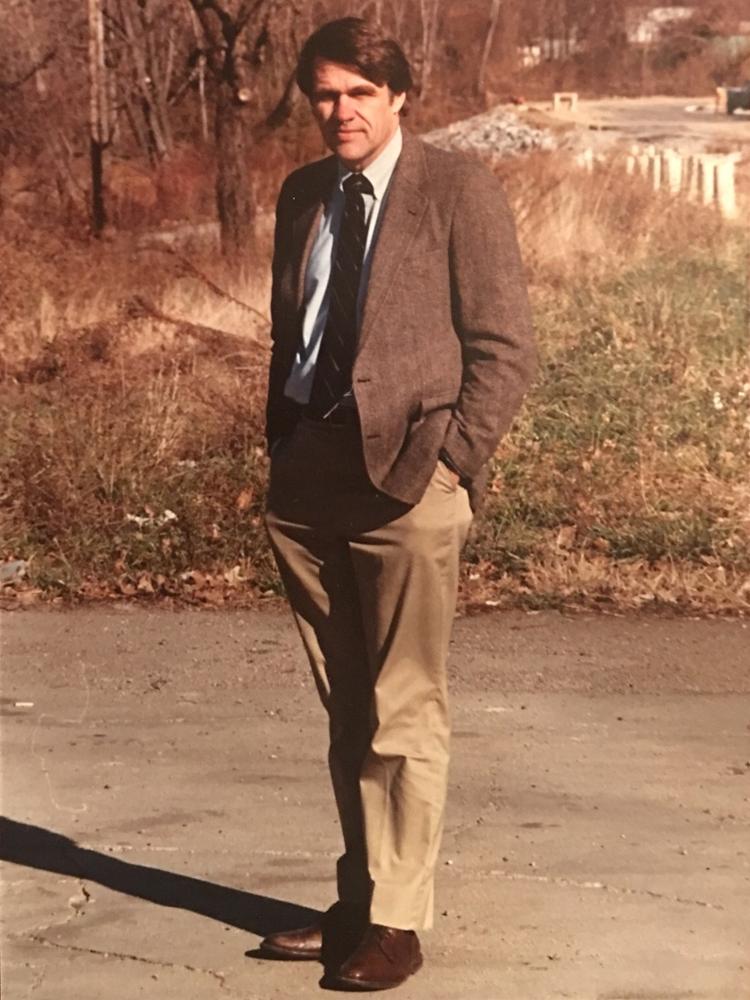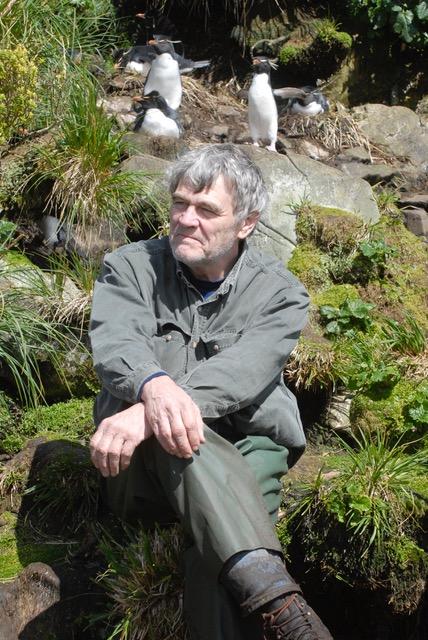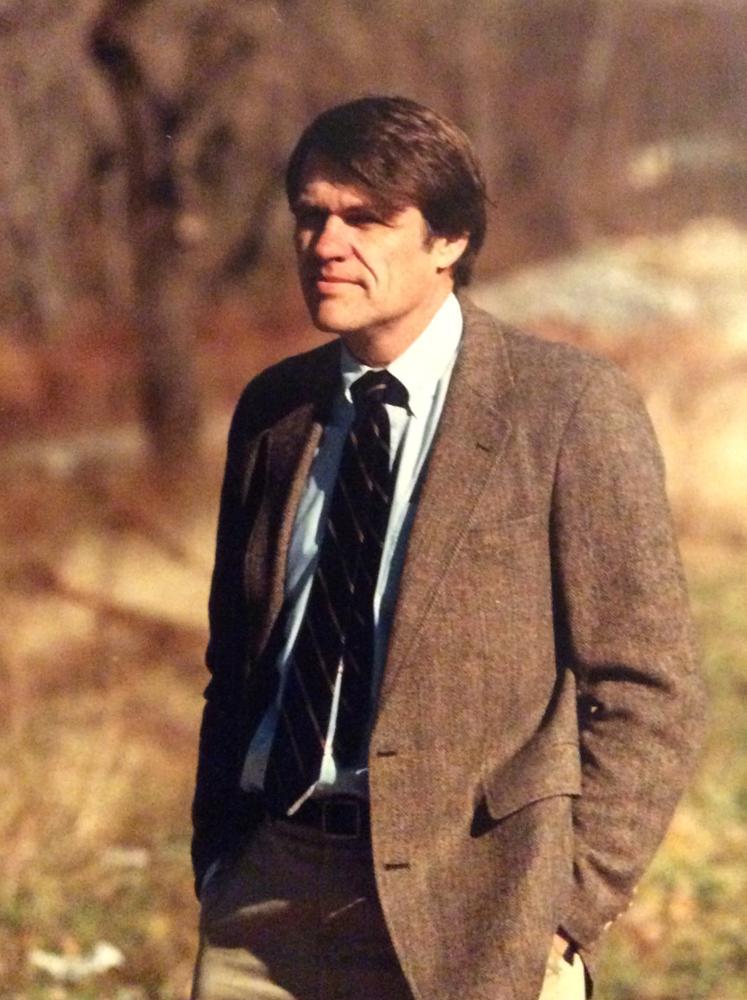 Obituary of W. Roger Fry
Fry, W. Roger
It is sometimes said that when your father or husband dies, you lose your umbrella against stormy weather.
It is with profound sadness that the family of W. Roger Fry announces his death on May 2, 2017, at his home in the Village of Indian Hill, with his wife, Patricia K. Fry, and his three sons, Ted, Addison, and William, by his side. Other bedside attendants included Sammie the Cat, while two muddy and out-of-control Golden Retrievers, Molly and Lucy, were thankfully overseeing the yard outside. Roger drew his last breath at 8:33 am.
No words can express our sorrow in losing the most important man in our lives. We will attempt to do so anyway. Apologies to Roger, he had a way with words – we hope that this Memorial lives up to his legacy and scratches the surface of his wonderful life. With that said, we think Roger would approve of us just getting on with it.
Roger is survived by his two sisters, Linda Mallett and Allison Montgomery. His brother Alan Fry predeceased him as well as his mother and father William and Constance Fry. He is also survived by his sons and their spouses Ted and Kelly of Milford, Addison and Sarah of Madeira, and William and Nina of Terrace Park, as well as his grandchildren Michael and Haley, Lillian and Henry, and Mila and William. Roger is also survived by so many other long time family members and their children, but include Terry and Penny Kennedy of Ft. Myers, Judy Kennedy of Cincinnati, Terry Mallett of North Carolina, Pat R. Fry of Cincinnati, Daniel Montgomery (deceased) of Charlottesville, and Clinton and Susan Nagy of Los Altos.
Roger died at age 77 after a valiant battle with Ocular Melanoma, a rare and aggressive cancer that he fought until the very end. If Roger's old cowboy-artist friends were available for comment, they would have described it more colorfully and in a manner he would have most appreciated: "Old Roger, he made 77 trips around the sun, but in the end the Good Lord just didn't see fit for one more."
Roger remained incredibly upbeat throughout it all – less than 48 hours before his death, he reaffirmed his belief that it could be worse and that he felt he was still better off than many, even given his worsening condition. He often repeated: "I've done most of everything I wanted to do – I have lived without regrets – the only thing I'm sad about it is not getting to spend more time with my family and grandchildren."
Roger spent his formative years in Cincinnati, Ohio where he was born. He spent summers up on Sand Lake, Michigan in the Irish Hills area where his family owned a little cottage, which remains in the family to this day. As a result of that time, Roger was an accomplished rehabber and sailor of old wooden canoes and made life-long Sand Lake friends spanning generations, whom he adored.
Roger was the captain of the ship and always made time for his family. He had a lifetime of advice to give but his sage counsel was not just reserved for family and friends. Roger practiced law at Rendigs, Fry, Kiely & Dennis for his entire career of more than 50 years, a law firm co-founded by August Rendigs and Roger's father, William Fry. Roger started at Rendigs as a law clerk since 1962 while he attended night classes at Salmon P. Chase College of Law, from which he graduated first in his class. Roger wrapped up his last litigation matter in March of 2017, a case that he worked on with his son William, on behalf of longtime clients. Roger was proud to have his son William working beside him as a third generation attorney at the law firm.
An esteemed lawyer friend of Roger's wrote a note to Roger at the end of his life, with a Post Script that sums up Roger's law practice nicely: "What I am trying to say is that through your actions you not only built an institution based on professionalism but you also built friends who respect and cherish you."
When Roger spoke, people listened. He had a rare ability to relate to and make friends with people from all walks of life – from actual cowboy artists ranching and painting in the American West in the 1960s, to Alaskan Eskimos and Inuit in the 1990s and 2000s.
Roger began collecting from a young age – first it was guns – purchasing his first gun in his early teens. He then became enamored with the American West, and the art and artists painting there, such as Cincinnati artists Joseph Henry Sharp, Hauser, Farny, and others, as well as long time interest in the Indians living on the plains and in the American Southwest. His collecting habits soon moved from Western paintings to Plains Indian art and pottery from the Southwest. Thereafter, he turned his attention to the native peoples of the Northwest Coast and the Arctic, and after that to the native peoples of the world.
Roger was enchanted with the lonely and forgotten places. He had the deepest respect for the Arctic North and the Native People that inhabited it – he was fascinated with the human ingenuity required to live, let alone thrive, in such a hardscrabble and unforgiving place. His large collections reflect his interests, which are too numerous to describe here.
Roger's lesser known collections included wooden canoes and boats, old brass and bronze sailboat parts (to hang on the wall at the Sand Lake cottage until needed for real-time use), a huge collection of vintage brass screws of every shape and size (which he religiously used for all of his woodworking projects), and folding pocket knives – he found the folding pocket knife to be the most versatile tool and was never without one, much to his dismay when courts around Ohio began installing metal detectors.
Roger is known for his collection of Cincinnati Art Carved furniture. Roger is the descendant of two master Cincinnati wood carvers, former Englishmen Henry L. Fry and William H. Fry, along with the American born daughter of William, the carver and Rookwood artist Laura Fry. Roger collected Fry-carved furniture his entire life, buying his last Fry-carved piece as recently as a few months ago. His and Pat's collection is likely the largest private collection of such furniture in existence, rivaled only by the Cincinnati Art Museum.
What many do not know is that Roger was a sometimes-author and a poet. A review of his writings reveals that he wrote a 65 page book, humbly entitled "How to grow a plant." It was dedicated to his wife Patricia and noted in the forward it was the "Second Edition" (1966) because the "First Edition intentionally destroyed after fruitless experience with Cantaloupes."
Roger wrote numerous poems in his "How to Grow a Plant" book. After first making the appropriate apologies to such established poets as "John Keats" and "what's his name, Browning," as well as acknowledging that his "iambic pentameter" was somewhat "out of place in this book," the poems are principally dedicated to his wife Pat and their marriage. One poem was written on and about their five-year wedding anniversary, August 23, 1968. In writing this Memorial, Patricia posthumously and pointedly corrected Roger's perceived wedding anniversary date, asserting: "we were married on the 17th, he never really knew the date." We are heartened to know that some things will never change.
We are including two paragraphs from his writings that are especially touching and prescient from his poem entitled:
My God, We've Been Married Five Years:
The future we've planned we may have to disband
Our time has run like a clock
And I notice today that Pat's hair is more gray
As we sit here on the back porch and rock
* * * *
But I will not despair, I'll get out of this chair
I'll have to stay alive
And together you see, just her and me
We'll weather twenty five.
Roger and Patricia Fry weathered 53 years of marriage.
Roger also authored numerous other essays and articles, including several articles for "Wooden Canoe" magazine, such as "Sailing the Modified Old Town" and the "Musgrove Willits Canoes." We note that Roger's author's biography in the magazine stated that W. Roger Fry also raced paddling canoes, finishing along with his brother-in-law Terry Mallett, "in last and second last place in the USCA Nationals." We are proud to report that Roger redeemed himself years later by winning his age group, along with his long time friend and law partner Len Weakley, in a canoe race on the Ohio River, only to be immediately disqualified by failing to register for it.
Roger was very much involved in philanthropic activities, ranging from the Cincinnati Zoo to the Cerebral Palsy Association of Cincinnati. Roger was the recipient of several legal lifetime achievement and professionalism awards, as well as a longstanding member of the American College of Trial Lawyers, an honor and distinction that he shared with his father before him. One award that you will not find listed anywhere is the time a group of Aleut Village Elders from the very-remote Pribilof Islands called him up one night, excitedly offering him the "Keys to the City." Roger did very much regret not being able to take them up on that.
Roger served as a long-time council member for the Village of Indian Hill, for which he cared deeply. He and his fellow councilmembers were instrumental in the purchase of the Camp Dennison gravel mine – saving it from residential development, which he along with others promptly turned into a wonderful multi-lake park now known as Grand Valley. He also participated in the creation of Rheinstrom Park and was an ardent supporter of maintaining Indian Hill's rural character, including its farming and horse-rearing origins. Roger was so saddened that old Indian Hill farmhouses were being torn down that he placed his own farmhouse in a historical preservation trust.
Roger donated his time and served as a long time board member of the Antique Tribal Art Dealers Association (ATADA). He co-chaired the legal committee for ATADA which advised on legal matters, litigation, and pending statutes related to tribal art. Roger had many tribal and art dealer friends and clients – he would sometimes help them with their art-related legal problems. Roger desperately wanted one last Santa Fe trip for the tribal antique shows this August, to be accompanied by his entire family, to say goodbye to his friends there in person.

Roger traveled extensively – he traveled from point to point, spending time in the northern most inhabited town in North America, Point Barrow, Alaska which is inhabited principally by Eskimos, as well as visiting the southern most town in continental South America, Puerto Williams, Chile, off The Beagle Channel (named after Darwin's ship).
Although Roger started out his life as avid outdoorsman and hunter, he eventually hung up his hunting hat and traded it for a camera lens. From the late 1990s forward, Roger participated in scientific explorations as a long time member of the Explorer's Club, as well associating with the Cincinnati Zoo to conduct scientific inquiries on Auklets and Puffins in the Aleutian Islands and St. Lawrence Island, numerous expeditions searching for the elusive or possibly extinct Ivory Billed Woodpecker in the cypress swamps of Florida in the Chocktawhatchee River basin, as well as Rockhopper penguin studies in the southern Pacific waters off Chile, on and near Isla Noir (the "Black Island"). During his penguin study trips, Roger maintained detailed logs of conditions and events, as they boated from island to island searching for penguin colonies. In part as a result of those frequent trips to Tierra del Fuego, and the scientific inquiries conducted, the Chilean government recently agreed to preserve and protect Isla Noir, identifying it as a wildlife preserve for the Rockhopper penguins and other threatened species living there.
We must also mention Roger's workshop – which he built and paneled in cherry wood with brass fittings himself. Pat said he could fix anything – he had an innate ability and understanding of how things work. Roger loved his workshop and it quickly became the neighborhood's workshop – people would stop in all the time with some project or another. In years back, Roger would decorate his workshop during the holidays, and would host workshop Christmas parties, just for the guys.
The reason this Memorial is so lengthy is that we continue to remember more and more – but at some point we have to stop. There is so much more. Roger Fry sacrificed so much for so many and we hope this Memorial does him justice.
In closing and in light of the day's preceding events, we are beginning to suspect that our super husband, super dad, and super grandfather, might just be a mere mortal, after all. The evidence however is circumstantial at best, and to his numerous friends and family, the Jury will remain forever out.
With much Love from the Rest of Us – May 3, 2017.

The family respectfully requests that no flowers or donations be made – please keep Roger in your thoughts, but if you have any special memories of him that you would be kind enough to share in writing or otherwise, please do so – they can be delivered in person or sent to Pat's home address. Thank you.
The Visitation and Memorial Service is on May 10, 2017 from 4:00-8:00 pm at the Thomas-Justin Memorial Funeral Home, and a remembrance, where folks can share their memories and stories, will occur during that service between 5:30 and 6:30. It is located at 7500 Montgomery Road, Cincinnati, Ohio 45236. Please visit thomasjustinmemorial.com, which will have additional photographs and biographical materials. Phone: 513.791.5353.
Visitation
4:00 pm - 8:00 pm
Wednesday, May 10, 2017
Thomas-Justin Memorial
7500 Montgomery Rd.
Cincinnati, Ohio, United States
A time for remembering Mr. Fry will run from 5:30-6:30PM, during the visitation hours. You are welcome to share your memories of Mr. Fry with everyone at that time.
Remembrance
5:30 pm - 6:30 pm
Wednesday, May 10, 2017
Thomas-Justin Memorial
7500 Montgomery Rd.
Cincinnati, Ohio, United States
A time for remembering Mr. Fry will run from 5:30-6:30PM, during the visitation hours. You are welcome to share your memories of Mr. Fry with everyone at that time.
Share Your Memory of
W. Roger
Kenwood
Thomas-Justin Memorial
Kenwood Chapel
7500 Montgomery Rd.
Cincinnati, Ohio
45236
Phone: (513) 791-5353
Fax: (513) 791-5004
Email: CLICK HERE
Madisonville
Thomas-Justin Funeral Home
Madisonville Chapel
4418 Whetsel Ave.
Cincinnati, Ohio
45227

Phone: (513) 271-0732
Fax: (513) 791-5004
Email: CLICK HERE