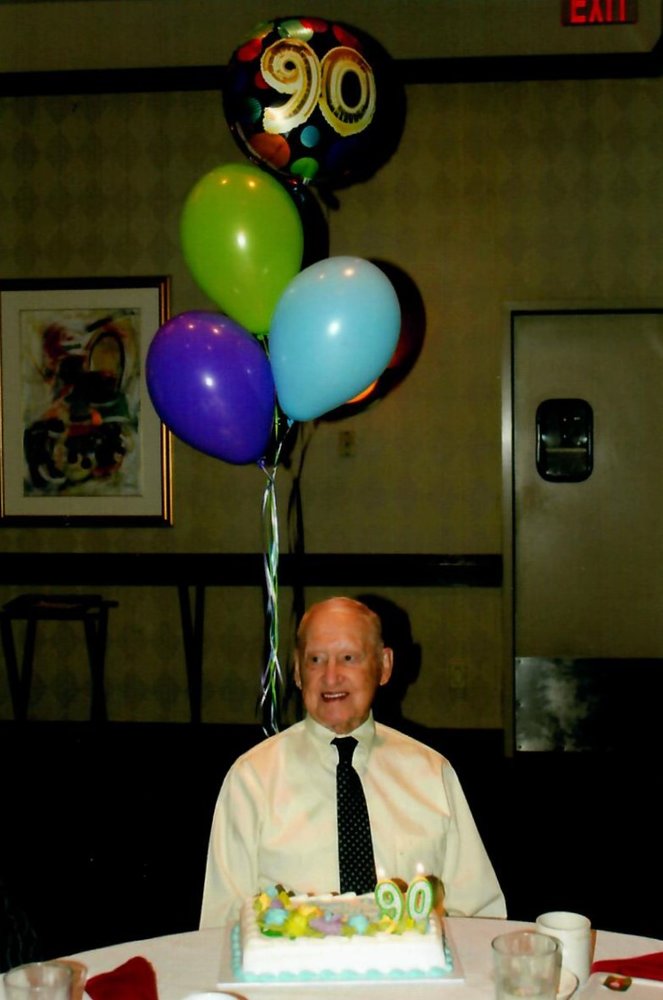 Obituary of John Fred Webb
John Fred Webb, 90, passed away peacefully on June 10, 2019, after a recent period of decline. He was born to the late Roland and Maude (Cooper) Webb on September 9, 1928, in Tollesboro, Kentucky. A child of the Great Depression, he endured many hardships during his childhood, which led him to develop an incredible amount of self-discipline and an unsurpassable work ethic. John graduated from Tollesboro High School and then enlisted in the U.S. Navy, where he was awarded a World War II Victory Medal.

After his term of service ended, John returned home to Tollesboro, where one day in 1949 a friend asked John to go on a double date, mostly because John had a car and his friend did not. John didn't like the girl his friend wanted to set him up with, but John told his friend, "I like the looks of your sister." John agreed to drive if his friend's sister, Mary, could be his date. That was the last first date John would ever have, as he and Mary dated for the next five years. John moved to Cincinnati, rooming with two of his sisters at first and working at various service stations and garages during that time, saving money to marry his sweetheart. John and Mary were wed in Tollesboro on October 2, 1954, then took a short honeymoon in Gatlinburg before they began married life in Cincinnati. Gatlinburg held a special place in John's heart for the rest of his life, and he and Mary returned to Gatlinburg multiple times a year, most recently in October, 2018.
John continued to work as a mechanic before joining the Cincinnati Police Department in 1957, a year after his oldest son, Barry, was born. More than anything, John wanted to give his children financial security and opportunities he did not have as a child, and becoming a police officer offered him a way to do so. Barry was quickly followed by another son, Brent, and a daughter, Susan. A surprise daughter, Sara, arrived a dozen years later, making John a father again in his mid-40s.
John was a driveway mechanic, known to his neighbors for his ability to fix their cars. After his youngest child was born, John began working weekends at Marfay Auto Parts, where he was known by his middle name, Fred. He worked tirelessly: police shifts from 7-3 during the week, then working on cars at home until nightfall. Saturdays were spent at Marfay, and Sundays he returned to the driveway, working on his friends' and neighbors' cars. After retiring from the Cincinnati Police Department in 1986, John worked full time at Marfay, both in Madison Place and the East End. He finally, permanently retired in 2009, but he loved cars all of his life and enjoyed working on them until he was no longer physically able to do so. He especially enjoyed taking care of the cars of his children and grandchildren, as this was another way he could provide for them. John was a quiet man who did not easily show his feelings, but he expressed his deep love for his family through his actions. His highest goal was always to make sure his family was well cared for, in every way possible.
John Fred Webb is survived by his wife of 64 years, Mary, and his four children: Barry Webb, Brent Webb, Susan Rudolph, and Sara Webb-Sunderhaus; his daughters-in-law, Barb Webb and Terri Webb; and his son-in-law, Greg Sunderhaus, all of Cincinnati. He is also survived by the nine grandchildren he adored--Brendon, Brian, and Brad Webb; Josh and Mark Webb; Matthew and Andrew Rudolph; and Maria and Peter Sunderhaus--as well as his granddaughter-in-law, Kim Webb, and his great-grandson, Camden Webb. Finally, he is survived by his sister, Janet Watkins, of Cincinnati; his brother Larry Webb and sister-in-law Marie Webb, of Troy, OH; and his brother Gregg Webb, of Tollesboro, as well as many nieces and nephews. He was preceded in death by his parents; his sisters, Hazel Kelly and Nina Gay Webb; and his brother, Ronnie Webb.
Visitation is Thursday, June 13 from 4pm-7pm, at Thomas-Justin Memorial Funeral Home; funeral service will begin at 7pm. Burial at Maysville-Mason County (KY) Cemetery the following day, 6/14, at 11am.
Visitation
4:00 pm - 7:00 pm
Thursday, June 13, 2019
Thomas-Justin Memorial
7500 Montgomery Rd.
Cincinnati, Ohio, United States
Funeral Service
7:00 pm - 7:30 pm
Thursday, June 13, 2019
Thomas-Justin Memorial
7500 Montgomery Rd.
Cincinnati, Ohio, United States
Interment
11:00 am - 11:15 am
Friday, June 14, 2019
Maysville-Mason County Cemetery
1521 Mason-Lewis Rd
Maysville, Kentucky, United States
Share Your Memory of
John
Kenwood
Thomas-Justin Memorial
Kenwood Chapel
7500 Montgomery Rd.
Cincinnati, Ohio
45236
Phone: (513) 791-5353
Fax: (513) 791-5004
Email: CLICK HERE
Madisonville
Thomas-Justin Funeral Home
Madisonville Chapel
4418 Whetsel Ave.
Cincinnati, Ohio
45227

Phone: (513) 271-0732
Fax: (513) 791-5004
Email: CLICK HERE