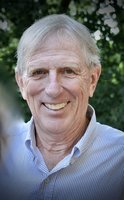 David L. Steward
Dr. David Leland Steward, 75
David Steward ("Pappy") passed away on July 31st, 2017 after a brief illness, in the company of his family. A Texas native and gifted student, David graduated from St. John's High School, Williams College and received a PhD in Biophysics from the University of Texas MD Anderson Graduate School of Biomedical Sciences. There, in Houston, he met his wife and best friend Diane. David enjoyed a long career as a research scientist, later as an executive in pharmaceutical research and development, and finally a director in biotech alliances and acquisitions. His career led him to settle his family in Cincinnati which became their home and the source of many wonderful friendships.
David's passion for science and learning was equally paced by a nearly insatiable appetite for athletic and outdoor pursuits. As a young man he excelled at football, basketball and track, later settling into a life long love of fly-fishing and tennis. It was no surprise that he was enjoying his beloved clay courts the day before his stroke. Regardless of the activity, a sunny day brought a boyish smile to his face and such days were gifts to be opened and enjoyed to their fullest. Quieter times might find him playing his guitar with one of his beloved labradors lazing loyally at his feet.
Perhaps conditioned by solo drives from Texas to Williams, David was a road tripper of legendary stamina. He thought nothing of loading up the family at 3 am and driving from the midwest to see family in Oklahoma or Texas and/or to the Rockies for a ski trip. Enjoying an early and long retirement, he and Diane continued their sojourns, frequently traveling the country and the world, often with fly rods and friends.
David could be absentminded or goofy but it was his sweetness and compassion that really defined him. He was easy going and forgiving by nature and neither gave nor took offense. These qualities rewarded him with rich friendships and he would surely want to express his gratitude to all his friends for the fun and memories.
Foremost, David was a husband, father, grandfather, and brother – loyal, loving, and proud to the end. His presence has provided a lasting gift that we will cherish and continue to weave into our own lives and pass on to the next generation of Stewards, Akels, Falciglias, and Shigeokas. Those who knew him will know that it is Diane, David's wife and best friend of over 50 years, to whom he would express his greatest and deepest gratitude and eternal love.
We will celebrate David's life at 10 am on Saturday, August 5th at the Armstrong Chapel UMC in Indian Hill, Ohio with a reception to follow for all at Kenwood Country Club.

In lieu of flowers, memorial donations may be made to:
MD Anderson Cancer Center
P.O. Box 4486
Houston, TX 77210-4486
Please include that the gift is in memory of David Steward.
www.mdanderson.org/gifts
When using the website please select the give in memory tab and under the billing information please select the checkbox that says I would like to choose where my donation goes. Once selected, please select the Fund designated by family option from the drop down box.

If you need any assistance or would like for us to process the donation on your behalf please call 713-792-3450 or 1-800-525-5841.

Thank you for your generous and thoughtful support