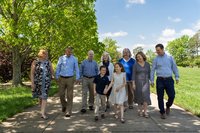 Melissa Ann Montgomery
Melissa (Missy) Ann Montgomery, age 49, died suddenly and unexpectedly on Friday, November 29, 2019.
Missy is survived by her parents, Fred and Ruth (née Louis) Montgomery, along with her fiancé and the love of her life, Michael Tarr.
Missy's loving family includes her sisters and brothers-in-law, Barb and Dave Yearout, and Maria Montgomery and Justin Wisdom; an adoring aunt, Lu Louis; and the girls that ruled her life, her nieces Sydney and Lexi Yearout.
Missy and Mike were recently engaged. She will be missed by Mike's parents, Terry and Jean Tarr; his brother and sister-in-law, David and Lauren Tarr; their children, Emerson and Beckett; and his dear aunt, Nancy Evans.
Missy was born and raised in Cincinnati, Ohio, and loved her city. She was a die-hard UC Bearcats, Reds, Bengals, and FC Cincinnati fan through thick and thin. She was no fair-weather fan! Missy owned a building (as she always said) at the University of Cincinnati, where she received her bachelor'sdegree in psychology and her master's degree in social work.
Missy's life-long dream was to help children suffering from abuse. Her career spanned many years at Hamilton County Jobs and Family Services before she found her true calling at Cincinnati Children's Hospital Medical Center.
At the time of her passing, Missy could not have been happierwith her life. She was 49 and celebrating her 50th birthday all year long. Missy had been cancer-free for six years, and was planning her wedding to the man of her dreams with a bright future ahead of her.
Visitation will take place on Friday, December 6, 2019 from 9:30-11:30 am at St. Clement Church in Saint Bernard, Ohio (4536 Vine Street, St. Bernard 45217). Mass of Christian burial will follow at 11:30 am.
Following mass, everyone is welcome to gather and celebrate Missy's life at MadTree Brewing (3301 Madison Road Cincinnati, Ohio 45209).
In lieu of flowers, please consider donating to one of these charities in Missy's name:
CancerFree Kids
https://cancerfreekids.org/
The Mayerson Center and Cincinnati Children's https://www.cincinnatichildrens.org/service/m/mayerson-center