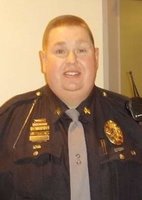 Michael E. Durbin
DURBIN
Michael Durbin, age 53, passed away on September 7th, 2019 at St Elizabeth Hospital Florence Kentucky.
He enjoyed collecting police cars, badges, police patches, and sports memorabilia. He also enjoyed watching his favorite team, the Pittsburgh Steelers, for over 40 years. He was a wonderful husband, father, beloved coach, brother- in-blue and the best papal ever. He loved life and family, but most of all he loved his grandbabies.
He is survived by his wife Regina Durbin (nee Young); his children Renee (Todd)Garman, Natasha (Anthony) King, Tiffany Marie Durbin (John), Michael (Becky)Durbin, Brianna Sizemore, Tiffany Rae (Korey) Wilson, Bobby and Gunner Sizemore; his 16 grandchildren; and father-in-law George Young.
He was preceded in death by his parents, Ollie and Lillie (nee Maclefresh) Durbin; brother, Butch Durbin; mother-in-law, Doris Young; and grandson, Bentley Cook.
Visitation will be held Friday, September 13th, from 5PM to the time of funeral service, 7PM at Thomas-Justin Memorial, 7500 Montgomery Rd. (45236) Kenwood.