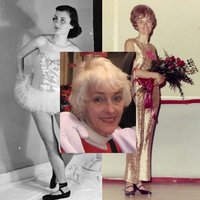 Mary Ella ""Mickey"" Berta
BERTA
She was known to some as "Mickey", some "Mrs. Boyer" and of course, "mom". Mary Ella Berta passed Thursday afternoon August 22 at the age of 86, after a long struggle with many health conditions.
Mary Ella was never one to sit and do nothing. She was still working three jobs as recently as early 2018 and didn't give up driving and going to Great American Ballpark to see her beloved Reds until about a year ago.
The one thing that defined her life from a very early age was dancing and performing. From classical ballet dancer of her youth to small business owner and dance teacher throughout her adult life, the performing arts meant everything. She was involved in community theater, various variety groups, Clogging, and all means of entertainment. She also provided choreography for numerous theater productions, drill teams and baton corps. Even into her eighties she was still teaching dance and still performing with the "High Stepping Grandmas".
In addition to the performing arts, she was also a lifelong student, accredited with multiple bachelor's degrees. She was an early computer enthusiast and was always working on various projects including greeting cards, photo montages and elaborate spreadsheets.
She leaves behind one son, Rick (Natalie) Boyer
To all of her various students, co-teachers, co-performers and co-workers, you meant the world to her.
A memorial celebration will be held on Thursday Sept. 19th 4-7 pm at the Pleasant Ridge recreation center. 5915 Ridge Ave. Cincinnati, OH 45213