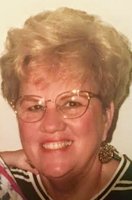 Nancy Lee Gigax
Nancy Lee Gigax (nee Friend)
1936 – 2019
LEBANON – Nancy Lee Gigax (nee Friend), 83, of Lebanon, Ohio, beloved wife of the late Robert Edward Gigax, died peacefully Tuesday, August 20, 2019, at her home at Otterbein Senior Life Lebanon.
Nancy was born in Toledo, Ohio, on March 8, 1936 to Edna and Arthur Friend. Growing up, she worked in the family business with her only sibling and twin sister Barbara Ann whom she adored and, even though Nancy and Barb lived in different cities later in life, they still spoke almost daily. Her father and mother owned a butcher shop and smoked turkey business, BarNan Turkey Farms, named after Nancy and Barb. The holidays were always a special time for the family as the smoked meats were sent to many family, friends and customers as holiday gifts. It had been such a special tradition that Nancy's husband, Bob, continued the tradition for many years and passed it down to their son, Todd, who still has a smoked turkey celebration party every Thanksgiving. Nancy's parents also pursued their interest in cocker spaniel dog showing, with BarNan kennels, and Nancy would share stories of them traveling by train from Toledo to New York City for the dog show. Nancy graduated from Whitmer High School then attended Bowling Green State University and was employed at General Motors. She met her future husband, Bob, in 1956 and they were later married in 1958. He was most certainly the love of her life for over 61 years.
Bob was a construction engineer and through his business, they moved to upstate New York then back to Toledo then to Dayton, Ohio where they finally settled down and raised their family. Nancy was an avid cook, inspired by both her mother and mother-in-law, and wrote a weekly food column, "Favorite Recipes", in the local newspaper for almost ten years. Because the holidays were so special to Nancy, she prepared all the classic holidays meals and desserts each year with great attention to every detail. She was a competitive card player, with Bridge and Euchre being two of her favorites, and she and Bob were in card club with friends for many years. Nancy was a beautiful seamstress making some of her own garments as well as occasional garments for others. She gave back both through her church, as her faith was so important to her, and through the Dayton Children's Hospital "TWIGS" society. Later, Nancy enjoyed her involvement in the Red Hatters society. Nancy always made the family vacations to Northern Michigan special with her endless preparation before each trip. Nancy's real passion in life was her family as she was a loving, caring and devoted wife, mother, sister, sister-in-law and aunt.
Nancy was preceded in death by her husband, her parents and her sister. She is survived by her daughter Susan Hall (Kelly); son Robert Edward Jr. (Margaret); son Todd; five grandchildren, Lauren and Chris Frantum, Joe, Adam and Allison Gigax and many cousins, nieces, nephews and in-laws who she deeply cared about.
Funeral Service will be held at St. Paul Community United Methodist Church, Madeira, Monday, August 26 at 10:00AM with reception immediately following at the church. Private burial at Gate of Heaven Cemetery. In lieu of flowers, memorials may be made to Otterbein Senior Life Hospice 696 N. State Route 741, Lebanon, OH (45036).