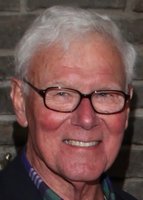 Robert E. Gigax
Robert Edward Gigax
1935 – 2019
LEBANON - Robert "Bob" Edward Gigax, 83, of Lebanon, Ohio, died peacefully Friday, July 12, 2019 at his home at Otterbein Senior Life Lebanon. He was born in Perrysburg, Ohio on November 13, 1935 to Regina Elizabeth Gigax (nee Dawson) and Milton Edward Gigax. Bob spent his childhood in Toledo, Ohio and was the eldest of a closely knit family of eight children. He graduated from Maumee High School in 1953, then spent two years in the United States Army before attending the University of Toledo earning a Bachelor of Science degree in Civil Engineering. At that time, he met his future wife, Nancy Lee Gigax (nee Friend) and they were married March 29, 1958. For most of his professional career, Bob was an owner and officer of Miami Valley Contractors, a commercial construction firm from where he retired in 1992. Bob then started his own home building, remodeling, and eventually handyman business which he continued to do much throughout his retirement.
Bob had many passions including gardening and led the Otterbein garden activities along with his dear friend, Bob Gallo, and was a detailed woodworker. He also enjoyed classic cars and making occasional trips to Auburn in the fall for the auto auction and classic car show. Bob was an avid runner in his younger years competing in local road races. He enjoyed fitness and could be found frequently in the Otterbein YMCA or outside pursuing his cycling passion. In his 30s, Bob obtained a private pilot's license, flew planes often with his friends, and was a member of a flying club at the Dayton airport. He enjoyed boating and spent many summers vacationing with his family at some of the beautiful lakes in the Traverse Bay area of northern Michigan and at Woodson Bend Resort at Lake Cumberland. During his retirement, Bob enjoyed spending his winters in Naples, with his wife Nancy. He gave back both through active involvement in his church and his membership in the Optimist Club.
Bob will be remembered for his love and devotion to his bride of 61 years, Nancy, his family and his friends, for his independence, strength of character and passion for living.
Bob was preceded in death by his parents and two of his brothers, John and Richard. He is survived by his wife, Nancy; daughter Susan Hall (Kelly); son Robert Edward Jr. (Margaret); son Todd; brother Milt; sisters Mary Webb; Judy Ling; Linda Cummings; Molly Lanz; five grandchildren, Lauren and Christopher Frantum, Joe, Adam and Allison Gigax and many cousins, nieces and nephews.
Visitation will be held at Thomas-Justin Memorial, Kenwood Chapel, Thursday, July 25 from 5:00-7:00PM. Funeral Services will be held at St. Paul Community United Methodist Church, Madeira, Friday, July 26 at 10:00AM with burial at Gate of Heaven Cemetery. In lieu of flowers, memorials may be made to Otterbein Senior Life Hospice or a charity of one's choice.