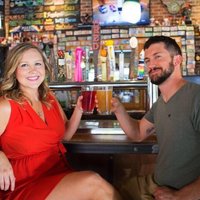 Todd A. Chalfin
CHALFIN
Todd Alan Chalfin, 36, the beloved husband of Danyelle (Thaxton) and loving father of Aiden, Olivia, and Stella, passed away on March 22, 2019 surrounded by his loving family and dedicated friends. He was born on October 7, 1982 to Robert and Linda (Hunt) Chalfin. Todd graduated from Lynchburg High School in 2001, then received his Associates majoring in Electro-Mechanical Engineering Technology from Cincinnati State. He was a hard worker and was proud of his accomplishments. Todd was an avid sports fan and especially loved the Cincinnati Reds. He loved to work out and be the center of attention.
Todd was a dedicated father and husband first and foremost. He treasured his wife and children and embraced every moment with them. He had a vivacious personality and always made people around him laugh. Todd had a wonderful heart and fiercely loved his family, his friends, and his co-workers. He was encouraging and supportive of everyone, often making those around him want to be a better person. He was an inspiration and blessing to all who crossed his path.
Todd is the cherished brother of Brian (Ryan Williams) Chalfin, Jamie (Shane) Wells and Kara (Will) Fawley. He is also survived by six nieces and nephews, many aunts and uncles, mother-in-law Tonya (Rich Katzin) Strunk, father-in-law Daniel (Pam) Thaxton, and sisters-in-law, Carly Thaxton and Davina Mulcahy.
Visitation will be held at St. Andrew the Apostle Catholic Church, 552 Main St., Milford, Ohio, on Saturday, March 30th from 9:00am to 10:30am. Mass will begin at approximately 10:30am with a burial service immediately following at the Gate of Heaven Cemetery, 11000 Montgomery Rd.
Please join us, and, if you'd like, wear your favorite Cincinnati Reds gear to honor Todd. We all know how much he loves the Cincinnati Reds.