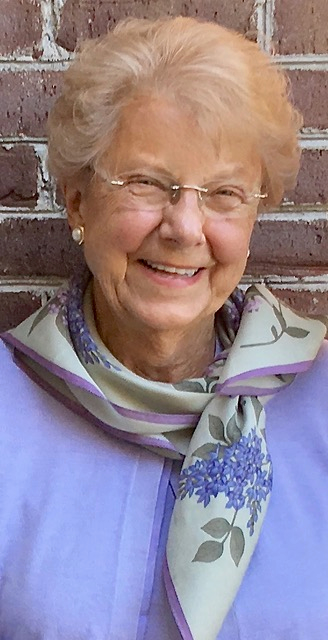 In Memory of
Betty Jean Latimer
1931 - 2018
Obituary of Betty Latimer
Betty Jean (Hagan) Latimer, age 86, beloved wife of the late Warren E. Latimer for 64 years, passed on to heaven at her home on Sunday, March 25, 2018 surrounded by her family. Betty was diagnosed with a low blood count disease three weeks prior to her passing. Before that, she was still playing bridge, attending her church, and living a full life.
Utmost in Betty's life was her love for her two daughters, Linda and Sally, granddaughters, Sarah and Lindsay, son-in-law, Brad, and her granddaughter Lindsay's husband, Taylor.
Her lavish love for people of all ages and walks of life gave her the gift of many close friends and acquaintances. Constantly positive, fun loving, and prayerful, Betty seized life as a gift to be enjoyed and shared that with family and friends. Her strong, life-long Christian faith enabled Betty to see her life passion as encouraging and loving others. Betty never met a stranger, and kept in close touch with many friends.
Born and raised in Butler, Pennsylvania, 30 miles north of Pittsburgh, Betty was actively involved with her church and school at a young age. Her siblings, Shirley and Art, were an important part of her fond memories, as were her parents, Ann and Arthur Hagan. During her sophomore year of high school, her father accepted a position with Marathon Oil Company in Robinson, Illinois, where she completed her last two years of high school. She was a cheerleader and class leader, and was elected to attend Girl's State.
She married Warren in 1951 in Robinson while they both were working for Marathon Oil Company. They relocated to several cities, including Huntington, West Virginia, Evansville, Indiana, and Dallas, Texas, making good friends along the way. In 1964, they moved to Worthington, Ohio, a suburb of Columbus, with their two young daughters. Betty worked as a middle school secretary in Worthington City Schools for numerous years and felt privileged to know many outstanding teachers and students. She then worked for Proprietors Insurance Co. and Natural Resources Services, Inc., the engineering company her husband started and operated until he retired.
Betty was active in the Worthington Presbyterian Church, Worthington Historical Society and a study group affiliated with the society, and Worthington Dance Club. Her other favorite pastimes included tap dancing and quilting group, both of which stayed in her weekly schedule for years. In 2004, Betty and her husband relocated to Cincinnati to be close to their two granddaughters, daughter, and son-in-law. Residing in independent living at Twin Lakes Retirement Community for 15 years brought new friendships and activities. She and her late husband were active members of Madeira-Silverwood Presbyterian Church, where she trained as a Stephen Ministry volunteer, establishing relationships with those she visited. Her Bridge club at Twin Lakes was important to her as well.
Betty is preceded in death by her parents, Ann and Arthur Hagan, and her sister, Shirley Robb (nee Hagan). She is survived by her brother Arthur Hagan (Marylee) of Terre Haute, Indiana; brother-in-law Graham Robb of Zanesville, Ohio; daughters Linda (Brad) Trucksis of Cincinnati, Ohio, and Sally Latimer, who recently relocated to Cincinnati, Ohio; granddaughters Sarah Trucksis of Cincinnati, Ohio and Lindsay (Taylor) Combs of Nashville, Tennessee. She is also survived by numerous nieces, nephews, grand nieces, and grand nephews.
At Betty's request, a private family burial was held at Old Armstrong Chapel, Indian Hill, Ohio, and a private memorial service will be held at Twin Lakes Retirement Community Chapel, Montgomery, Ohio, to celebrate her life and Christian faith. Thomas-Justin Funeral Homes, Inc. is handling arrangements.
Her desire to continue contributing to charities can be honored by donating in her memory to Madeira-Silverwood Presbyterian Church, 8000 Miami Ave., Cincinnati Ohio, 45243 or the Worthington Historical Society, 50 W. New England Ave., Worthington, Ohio, 43085.
Kenwood
Thomas-Justin Memorial
Kenwood Chapel
7500 Montgomery Rd.
Cincinnati, Ohio
45236
Phone: (513) 791-5353
Fax: (513) 791-5004
Email: CLICK HERE
Madisonville
Thomas-Justin Funeral Home
Madisonville Chapel
4418 Whetsel Ave.
Cincinnati, Ohio
45227

Phone: (513) 271-0732
Fax: (513) 791-5004
Email: CLICK HERE