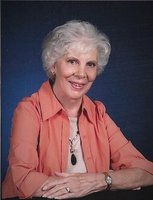 Mary Hamm
On Wednesday, April 11, 2018 Mary Bruce Blair Hamm, a resident of Naples, Florida and home in Cincinnati, Ohio, passed away from this life and entered the kingdom of heaven.
Having been born February 2, 1936, in Fleming County. She was 82 years old. She was the daughter of George and Frances Blair and the eldest of 2 children.
Mary Hamm was preceded in death by her parents, George W. and Frances Blair and sister Sarah Tribby. Surviving Mary is her loving husband James L. Hamm, 64 years of marriage; 3 loving children: Vicki, Jim, Vera; 4 grandchildren: Michelle (Justin), Alyssa (Sam), Rebecca (Sean), Brianna (Jordan); 4 great-grandchildren: Aiden, Annabelle, Sienna, and Levi. Survived by many special nieces, nephews, family members, and dear friends.
A graduate from the University of Cincinnati in 1972 with a Bachelor's in Elementary Education, followed with a Master's in Education Administration. She touched the lives of many with her love of learning. Mary enjoyed genealogy and teaching others the passion to read to be life-long learners in the world around them.
Visitation will be held on Saturday, April 14, 2018 at 10:00AM at Thomas-Justin Memorial Funeral Home (7500 Montgomery 45236), followed with a prayer service at 11:00AM. Burial will be in the Gate of Heaven Cemetery immediately following. Pastor David Brown from Armstrong Chapel in Indian Hill will be officiating.
In lieu of flowers, family is requesting donations to be made in her name to the National Breast Cancer Foundation, Inc. or the Susan G. Kohen Foundation.