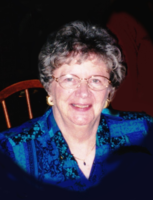 Mary Ann Haupt
Mary Ann Haupt (nee Dinkelmann) of Madeira passed away on April 9, 2018 at the age of 87. Mary Ann was born in Cincinnati, Ohio on October 20, 1930 to Fred and Helen Dinkelmann. She was baptized at St. Paul Lutheran Church on November 23, 1930 and was a lifelong member of the Lutheran Church. Mary Ann attended St. Paul Lutheran Church School through the 8th grade, followed by graduation from Withrow High School of Cincinnati.
Mary Ann earned a bachelor's degree from Valparaiso University. She met her beloved husband of fifty years, Raymond (deceased March 14, 2013) at Valparaiso and they were married in Cincinnati on April 25, 1953. They initially lived in North Hollywood, CA and moved back to Cincinnati in 1956 so that Raymond could begin his career at General Electric (GE). Raymond worked at GE's Aircraft Engine Division for over 35 years while Mary Ann was the devoted, committed, and supportive wife who, together with Raymond, raised three sons.
She loved her Lord and Savior Jesus Christ and has gone to be with him. Mary Ann was a vigilant Prayer Warrior, always praying for her family, country, and friends. She relished traveling with her husband and friends, and later with her sons and their families. Her favorite destination was Hawaii. Even in the last days as Alzheimer's took her memory, she still had her unique "dry" sense of humor, blessing those around her with the gift of laughter.
Mary Ann is survived by her sons Craig (Mary), Bruce (Susan) and Keith (Mary Wynn); grandchildren Ryan (Juliana Olsson), Nicole, Amy, Paul, Meagan, Bradley, and Rachel; sister Ruth Pullem (Maineville, OH) and sister-in-law Gertrude Kramer (Orland Park, IL).
Funeral services will be held at St. Paul Lutheran Church, 5433 Madison Rd., Cincinnati, OH 45227 on Monday, April 16, 2018. Visitation at the church will be 9:00AM until the time of the funeral service 10:30AM. Interment will be at Laurel Cemetery, Madisonville. Memorial donations may be directed to Lutheran Comfort Dogs ministry http://napavalleycomfortdogs.org/donate/ or The Lutheran Hour Ministry https://www.lhm.org/give/forms/formgeneral.asp .