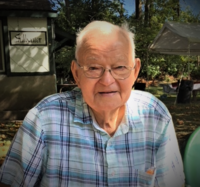 Andrew Joseph Taphorn
TAPHORN, ANDREW J. aged 90.
Spouse: Claire (Feller)
Living Siblings: Ruth Newcomb, Charlene Glandorf, Helen Heiselmann, Sr. Cecilia Taphorn, Evelyn Rice
Deceased Siblings: Charles, John, Bernard, Mary Swearingen, Jane Dahle, Dorothy Diesel, Eleanor Schatzle.
Children: Diane (Gary) Hagler, David (Carly) Taphorn, Tony (Therese) Taphorn
Grandchildren: Laura Fritz, Eric Hagler, Gabrielle Taphorn
Step Grandchildren: Kevin Whitehead, Tuesday Cromer & Heather Grecko
5 Great Grandchildren & 8 Step Great Grandchildren
Andrew Joseph was born Oct 5, 1927 to John & Cecilia Taphorn in Pleasant Ridge, Ohio. He worked for Frank F Taylor Company & Neptune Meter for his entire working career.
He enjoyed spending his time at "camp" along the Little Miami River.