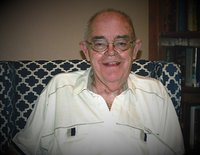 Willard E. "Woody" Sick JR.
Willard "Woody" E. Sick Jr. passed away peacefully on September 16, 2017 surrounded by his family after a long illness.
Woody was born in Sandusky, Ohio on December 1, 1943 and graduated from Sandusky High School. He married Sharon Kriick on May 13, 1967 and recently celebrated their 50th wedding anniversary. He served as a United States Navy Corpsman for four years and as a medic in the Ohio National Guard for eight years. His family moved to Cincinnati in 1978 where he worked for Jake Sweeney dealerships in several capacities for 23 years.
Woody enjoyed fishing, collecting military memorabilia, and spending time with his children and grandchildren.
He is survived by his wife, Sharon R. Sick (nee Kriick), his children, Tracy (Barry) Teegarden, Michael (Marjie), Matthew (Stephanie) Sick. Woody is also survived by his grandchildren Chelsea, Hannah, Abigail, Andrew, Cooper and Delaney; two half-brothers and two half sisters. He is preceded in death by his father Willard Sick Sr. and his mother, Faye Bechtel, and his half-brother Kenneth Bechtel.
A memorial service will be held at Thomas Justin Funeral Home, 7500 Montgomery Rd, on Thursday, September 21 at one in the afternoon. In lieu of flowers donations would be appreciated to the Hospice of Cincinnati P.O. Box 633597 Cincinnati, Oh 45263 and the Vietnam Veterans of America 8719 Colesville Rd, Suite 100, Silver Spring, MD 20910.